Hand & Extremities
There has been no specific reason found so far as the cause of this syndrome. However, it is found that most of the patients suffer from this condition whenever an extreme pressure is felt on the median nerve of the wrist. Also there are certain common conditions.
READ MORE
Knee Problems
Knee is considered to be the largest joint of a human body. As known to all of us it joints the lower leg with the thigh and comprises of two articulations. The first articulation is located between tibia and femur whereas the second one is found between the patella and femur.
READ MORE
Shoulder Problems
It is believed that there is no such organ or part in the human body which can be labeled as a less important structure. Each part contributes to the process of building the body stability as well as strength through a list of swift movements that are required.
READ MORE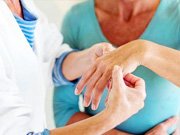 Rheumatology
The term "Rheumatism" defines certain medical conditions that affect the connective tissues and joints of human body. Depending on various conditions different rheumatic disorders have been recognised.Joint and muscle pain, swelling,
READ MORE
Hip Anatomy
The hip joint functions as one of the most important joints in the human body. Designed for both mobility and stability, the hip allows the entire lower extremity to move in three planes of motion,while providing an important
READ MORE